Are you considering upgrading your instant camera or buying your first one? My Instax Mini 11 review explains who it is suitable for, its main drawbacks, how to get the most out of its features, and my experiences taking over 200 photos with my Mini 11 over the past six months.
The Instax Mini 11 is perfect if you are looking for a simple, instant camera that is easy to use, has lots of fun, great for kids, and offers exceptional value for money. The Mini 11 is a marked improvement on the previous model, the Instax Mini 9, thanks to the upgraded auto zoom lens and improved selfie mode.
In this Instax Mini 11 review, I will discuss the following:
What I love about the Mini 11 (based on my experience of taking over 200 photos with it)
The main drawbacks
Whether I think it's suitable for kids and toddlers
My recommended alternatives and why I think you may want to consider other models
Who the Mini 11 is not right for, in my opinion
In-Depth Fujifilm Instax Mini 11 Review
It took me almost six months to decide whether to buy an Instax Mini 11 camera and once I did, I instantly regretted having waited so long.
Why?
Because in the three months since buying my Mini 11, I have captured so many memorable moments, introduced my 3-year-old daughter to the magical experience of waiting for the instant film to develop and discover what it reveals, and significantly improved my instant photography skills.
Here's a summary of the key features, how to use the camera,
Usability: 4 out of 5 stars
The Mini 11 is an updated model of the Instax Mini 9. Both cameras look similar at first glance. However, you will discover one key difference between models on closer inspection.
The Mini 11 has removed the five shooting modes on the Mini 9; previously, you had to select the correct mode for the environment in which you were taking a photo illuminated to show you the recommended setting. However, as I shared in this Instax Mini 9 tips and tricks guide, there are times when it is beneficial to select a mode other than the one that was advised.
What does all that mean regarding Instax Mini 11 usability?
It means that the Mini 11 is more straightforward to use than the Mini 9, which is an advantage in usability. A potential drawback to image quality is that you can no longer override the default shooting mode if you feel it would enhance the picture quality.
What do I think about this?
I love the simplicity of taking pictures with my Instax Mini 11; however, I concede that it sometimes means I can't capture the best possible image quality.
What would make an even more significant difference, though, is an option you could select to switch off the flash manually. This is not available on the Mini 11, nor was it an option for the Mini 9, which is one of the main weaknesses of these two models.
Consider the Instax Mini 90 a suitable Mini 11 alternative if this is important.
Image quality: 3.5 out of 5 stars
By their very nature, instant cameras are designed to capture nostalgic images with a retro vibe. They are not meant for capturing ultra-high-definition quality photos.
So, when I talk about rating the image quality of the Instax Mini 11, I am comparing it to other instant cameras to ensure a fair comparison.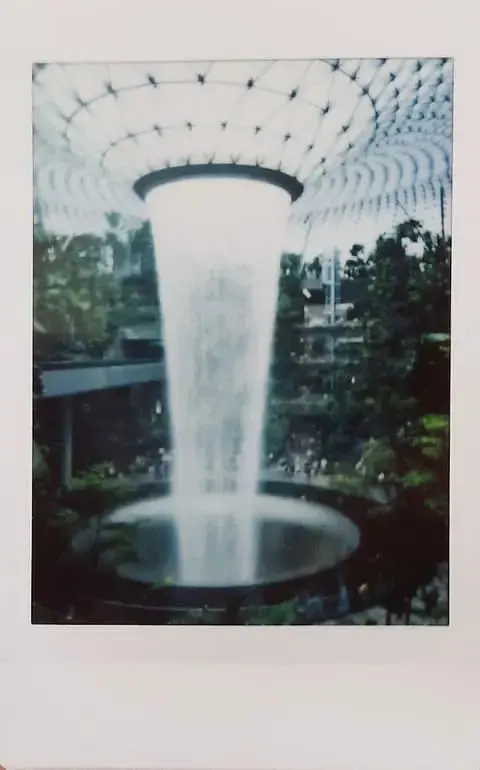 With that in mind, the Mini 11 shoots images of reasonable quality; however, due to the lack of options to adjust the focal aperture, choose whether the flash is on or off, and manually adjust the zoom, I found the image quality to be lower than other options such as the Instax Mini 90.
Selfie quality: 3 out of 5 stars
Right off the bat, selecting selfie mode on the Instax Mini 11 is a clunky affair that involves pulling hard on the lens to extend it and activate selfie mode. I feel that it's only a matter of time before the lens gets damaged.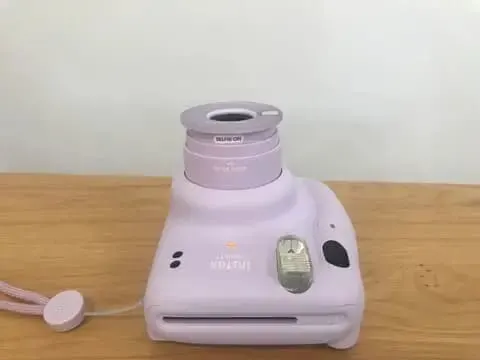 The actual selfie quality is nothing special either, and I no longer bother to engage in selfie mode when shooting selfies.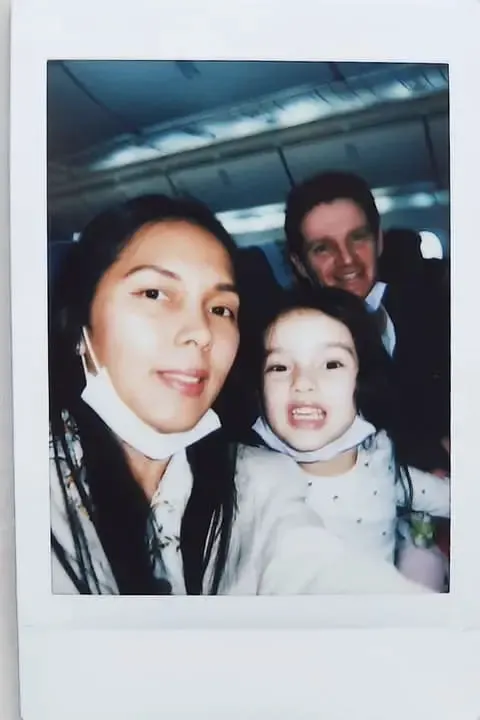 If you are looking for a Polaroid camera primarily for taking selfies, I would not recommend the Instax Mini 11.
Suitability for kids: 4 out of 5 stars
I have a 4-year-old daughter with a built-in aptitude for knowing how to use a mobile phone, its camera, etc. She has never used an instant camera, so I wondered how she would react to the Instax Mini 11.
I started by shooting a few photos to show her how the camera worked, and she was instantly mesmerized by watching the photo print and seeing it transform from a blank white image into the picture we had just captured.
So far, so good!
Next, I let her use the camera by herself. What worked well is that the Mini 11 has only two buttons you need to press to activate it, firstly, the button to open the lens (which I sometimes helped her with to prevent any possible damage) and secondly, the button to take the photo.
Is the Mini 11 suitable for kids – we asked our daughter Scarlett to test it out!
The simplicity of the Mini 11 makes it very suitable for kids to use!
She struggled to hold the camera and press the button simultaneously because the camera was reasonably large for her tiny hands. This wasn't a significant issue, although we did end up with some landscape photos (which you take by rotating the camera 90 degrees) where her finger covered the lens or flash.
While she loved waiting to see the photo appear, she didn't want to wait for it to develop before shooting the following image when she was using the camera.
And this is the major challenge with using the best instant camera for kids who want to take photo after photo. While this isn't a problem with a mobile phone, given the high cost of instant film, you can find yourself burning through many instant films (and money!) pretty quickly, and the result may be a lot of unusable photos which weren't correctly taken.
Overall, I think the Instax Mini 11 is a suitable camera for kids – provided you supervise them so they don't waste too much film.
Value for money: 4.5 out of 5 stars
When considering the value for money of the Mini 11, there are two key considerations that you must consider:
The cost of purchasing the camera
The cost of buying the instant film
Compared to a mobile phone or digital camera, the Instax Mini 11 price offers fantastic value for money, reflected in my 4.5-star rating for value for money.
The costs start to add up in buying the film itself; however, this can be mitigated by buying your Instax film in bulk, which can reduce the cost per photo by up to thirty percent. I always buy the 60-film pack, which helps reduce costs and ensures I have enough film to capture unexpected moments.
There is one final point I wish to address.
While some people complain about the plastic, the toy-like appearance of instant cameras, and the lack of adjustable features, I think they're missing the point: its simplicity makes the camera so fun to use, which is also reflected in the very reasonable price.
Fun to use: 4.5 out of 5 stars
As I detailed above, the Mini 11 is super simple, making it fun!
I didn't rate the "fun to use" feature five stars because it irritates me that you can't switch off the flash, mainly when shooting outdoors on a sunny day. I hope this is something Instax will address in future models. Meanwhile, I found a workaround solution of covering the flash with tape 😉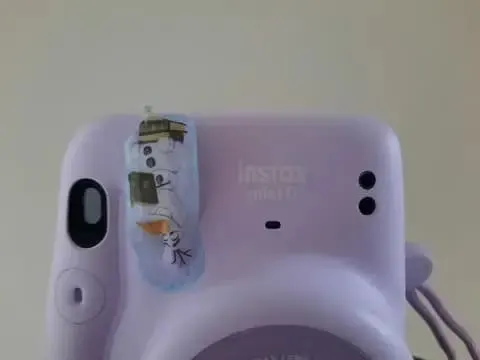 Instax Mini 11 Alternatives
Instax Mini 9 – The Mini 11 is the later and upgraded Instax Mini 9. Key enhancements include a built-in selfie mode, a variable shutter speed lens that ranges between ½ and 1/250 second, the removal that no longer requires you to select the shooting mode, and improved lens barrel material. Here are my full Instax Mini 9 vs. 11 reviews in case you're still unconvinced!
Instax Mini 40 – The Mini 40 is the latest model of the Fujifilm range, and honestly, I would have expected more upgrades on this model compared to the Mini 11. Both cameras have very similar features and functions. The critical difference is that the Mini 40 has a vintage design which may appeal to hipster photographers who don't like the plasticky look of the Mini 11 and are willing to pay more for the retro styling.
Instax Square SQ1 – The SQ1 uses a different type of film than the Mini 11. It uses high-quality, square monochrome film, which is better for shooting larger images, and may appeal if you find the Instax Mini film a little on the small side. You can read my full Instax Mini vs Square review to see how these cameras compare.
What I Love About the Fujifilm Instax Mini 11
Having only two buttons to press and no longer needing to select the mode before shooting makes the Mini 11 easy to use, versatile, and fun.
My daughter loves taking photos with it, which has given us excellent mother-daughter bonding and learning opportunity.
The camera itself offers superb value for money.
The Main Drawbacks
I wish Instax included an option to switch off the flash manually.
The Instax Mini 11 blinking orange light, which indicates an error, can sometimes be confusing to interpret and identify what the problem is (Hint: 9 times out of 10, you need new batteries)
The lack of features could make the Mini 11 not suitable for more advanced instant photographers – although this is something that I was concerned with because I appreciate the simplicity of using the Instax Mini 11.
The selfie mode sucks! I no longer use it, although taking selfies in normal mode worked well.
Don't Buy the Instax Mini 11 If…
You are a serious, techie photographer who expects a full range of options for adjusting aperture, zoom, flash, etc.
You wish for high-quality images that a digital camera or mobile phone can capture.
You want to use the camera for your kids but are worried about spending too much on instant film (in this case, I recommend the Instax LiPlay, which is a higher-end model that provides you the ability to choose your images before printing them)
You LOVE taking selfies and want to purchase an instant camera primarily with that in mind.
You mainly shoot nature photos outdoors in bright sunlight.
My Instax Mini 11 Verdict
The Instax Mini 11 is an excellent option if you want a simple, instant camera that is fun, easy to use, suitable for children, and offers exceptional value. If you are a professional photographer, love to take selfies, or mainly capture nature scenes outdoors in bright sunlight, I would not recommend choosing the Mini 11.