Have you found yourself torn between the Instax Mini 11 and SQ1 cameras? Trust me, I've been there too. The simplicity and ease of using the Instax Mini 11 versus the larger Instagramesque square photos of the SQ1.
As a passionate instant camera blogger and experienced user of both models, I'm here to share my hands-on insights and take you on a captivating journey through their features, performance, and user experience.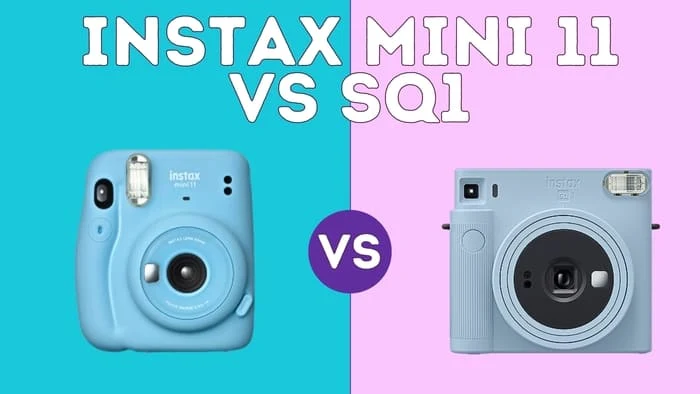 So, let's dive right in!
Instax Mini 11 vs SQ1: My Verdict After 6 Months of Testing
The Instax Mini 11 and SQ1 offer unique features that cater to user preferences. The Mini 11 excels in ease of use and value for money, making it an excellent choice for beginners and casual users. On the other hand, the SQ1's superior image quality and design make it a better option for those seeking a more premium instant camera experience.
I have also rated each of the cameras against my selection criteria (which I discuss in detail in this article) to help you compare the SQ1 vs Mini 11:
| Criteria | Instax Mini 11 | Instax SQ1 |
| --- | --- | --- |
| Image Quality | 8.0 | 8.5 |
| Ease of Use | 9.0 | 8.5 |
| Design | 8.5 | 9.0 |
| Additional Features | 7.5 | 7.0 |
| Price/Value for Money | 9.0 | 8.0 |
| Versatility | 8.0 | 8.5 |
Instax Mini 11 Overview
Let me share with you the main features that I adore about my Instax Mini 11 camera, along with some extra tidbits I've discovered along the way:
Automatic Exposure: Say goodbye to fumbling with manual settings! The camera cleverly measures ambient light and adjusts the shutter speed and flash for you, ensuring beautifully lit photos in any situation.
Selfie Mode: Who doesn't love a great selfie? The built-in selfie mirror and close-up shooting capabilities make capturing that perfect shot a breeze. Just pull out the lens barrel, and you're good to go!
High-key mode: Looking to add a touch of whimsy to your photos? The high-key mode helps you capture bright, soft, and dreamy images to make your memories even more magical.
Compact design: The Instax Mini 11 is my go-to for on-the-go photography. It's lightweight, slim, and fits right into my bag, making it perfect for parties, vacations, or spontaneous adventures.
Various color options: Express yourself with a camera that matches your personality! Choose from stylish colors like Blush Pink, Sky Blue, Charcoal Gray, Ice White, and Lilac Purple. I'm rocking the Sky Blue, myself.
Customizable shutter button: Add a personal touch to your Instax Mini 11 with the included shutter button stickers. It's a fun little way to make your camera truly your own.
Now that we've covered the key features, let's dive into my experience with the Instax Mini 11's performance. I'll touch on image quality, ease of use, and any additional features that have made a difference during my time using the camera.
The Instax Mini 11 produces vibrant, clear, and sharp images with its automatic exposure feature. I've found that colors appear true to life and have a charming vintage feel. The credit-card-sized prints (62 x 46 mm) are perfect for sharing or adding to a photo album.
One of the features I love most about the Mini 11 is its user-friendliness.
With minimal buttons and automatic exposure, even beginners can take great photos instantly. My 4-year-old daughter adores the Mini 11, too, so I can say firsthand that it's an excellent Instax camera for kids.
The film loading process is also simple and hassle-free, so you can focus on capturing memories. Here's my guide on How To Load Instax Mini 11 film if you encounter any challenges.
The Mini 11 camera operates on two AA batteries, which I've found to last approximately 100 shots. Carrying a spare set of batteries is always a good idea, but the overall battery life has been quite impressive.
The Mini 11's flash works consistently well in low-light situations. The automatic exposure adjustment ensures your photos are well-lit indoors or in dim environments.
Overall, I've been thrilled with the performance of the Instax Mini 11. It's a reliable, easy-to-use camera that delivers consistently high-quality instant photos.
Instax Mini 11 Pros and Cons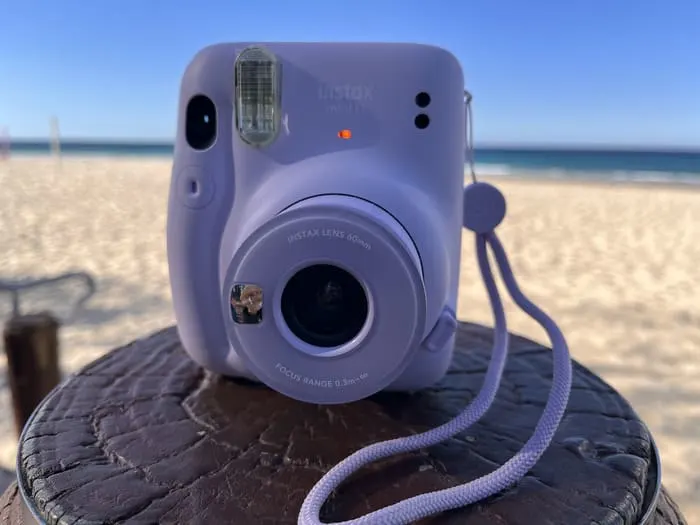 To give you a balanced view, here's a quick rundown of the top three advantages and disadvantages I've found while using the Instax Mini 11:
Pros:
User-friendly and perfect for beginners
Automatic exposure for well-lit photos in various environments
Compact and lightweight design for easy portability
Cons:
Limited manual control for more advanced photographers
No option to disable the built-in flash
Film costs can add up over time
Evolution of Instax Mini 11
Now, let's take a moment to look back at how the Instax Mini 11 has evolved from its predecessor, the Instax Mini 9, and how these improvements have impacted the user experience:
Automatic Exposure: One of the most significant upgrades is the introduction of automatic exposure. In contrast to the Mini 9's manual brightness adjustment, the Mini 11 automatically adjusts the shutter speed and flash based on ambient light. This feature makes it much easier for users to capture well-lit photos without fuss.
Simplified Selfie Mode: The Instax Mini 11 has streamlined the process of capturing selfies and close-up shots. While the Mini 9 required a separate close-up lens attachment for selfies, the Mini 11 has a built-in selfie mode that can be activated by simply pulling out the lens barrel. This innovation removes the need for extra accessories and makes capturing selfies more convenient.
Design Refinements: The Mini 11 has undergone some design changes, making it even more user-friendly and stylish. The camera's body is slimmer and rounder than the Mini 9, making it more comfortable to hold and easier to transport. Additionally, the Mini 11 is available in a new range of colors, offering users more options to express their style.
Instax SQ1 Overview
Alright, my fellow instant camera lovers, it's time to dive into the Instax SQ1 and uncover the main features that make this camera stand out. I'll share my personal experiences and insights to help you get a feel for what this square-format wonder has to offer:
Let's start with the most prominent feature – the square format! The Instax SQ1 captures photos in a nostalgic, retro-inspired square shape, giving your memories a unique charm. The larger print size (62 x 62 mm) allows for more creative compositions and storytelling.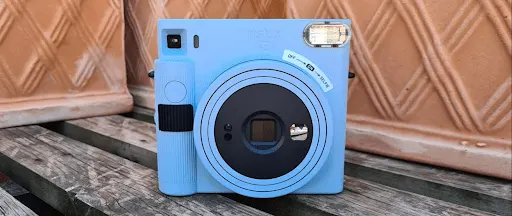 Simplicity is vital with the SQ1.
Its minimalist design and fuss-free controls make it a dream to use. All you need to do is turn it on, aim, and snap to capture those fantastic square shots.
Read next: Instax Mini vs Square: Which Fujifilm Instant Camera is Right for You?
The SQ1 shares the Mini 11's genius automatic exposure feature. This means you can trust the camera to adjust shutter speed and flash based on lighting conditions, giving you beautifully lit photos every time.
We all love a good selfie, right?
The SQ1 makes self-portraits and close-up shots a breeze with its easy-to-use selfie mode. Just twist the lens to switch to this mode and use the handy little mirror on the front of the camera to frame your perfect shot.
Last but not least, let's talk about style. The Instax SQ1 sports a sleek, sophisticated design in three gorgeous colors: Terracotta Orange, Glacier Blue, and Chalk White. The clean lines and modern aesthetic make it a fashionable accessory that will turn heads wherever you go.
SQ1 Performance Evaluation
The SQ1 produces vibrant, sharp images with square-format film. The colors are rich, and the contrast is well-balanced. The larger format allows for more detail and depth in the photos, making them eye-catching.
As I mentioned, the SQ1 is incredibly user-friendly, with minimal controls and simple operation, making it a great choice for beginners and experienced instant photographers.
With automatic exposure and an easy-to-use selfie mode, capturing fantastic photos is a breeze.
While the SQ1 doesn't have as many features as other instant cameras on the market, its simplicity is part of its charm.
It focuses on delivering high-quality square photos in a sleek, easy-to-use package, which makes it an excellent choice for those who appreciate a straightforward, no-frills instant photography experience.
Overall, the Instax SQ1's impressive performance offers excellent image quality and ease of use in a stylish and modern design.
Its focus on square-format photos and simplicity makes it a unique option for instant photography enthusiasts looking for something different.
Instax SQ1 Pros and Cons
To give you my perspective on the Instax SQ1, let's break down its advantages and disadvantages:
Pros:
The SQ1's square format sets it apart from other instant cameras, providing a retro-inspired look and more creative possibilities.
With minimal controls and an automatic exposure feature, the SQ1 is accessible to beginners and experienced instant photographers.
The sleek, modern design of the SQ1, available in three beautiful colors, makes it a fashionable accessory for any instant photography enthusiast.
Cons:
The SQ1 offers fewer features than other instant cameras, which might be a drawback for those who prefer more options and customization.
The SQ1 is more expensive than the Instax Mini 11, making it a more significant investment for those on a budget.
The square-format film for the SQ1 is typically more expensive than the Mini 11, which could add up over time for those who take many photos.
Evolution of Instax SQ1
Let's take a moment to explore the evolution of the Instax SQ1 and how it has developed from previous models or releases. This will help you understand the improvements and addressed issues that enhance the user experience of this unique instant camera:
From Instax Square SQ6 to SQ1: The Instax SQ1 is an evolution of the Instax Square SQ6. Fujifilm streamlined the design and features of the SQ1, making it more user-friendly and accessible to a broader range of photographers. The SQ1 simplified the control layout and removed some of the manual modes available in the SQ6.
Automatic Exposure: One of the most significant improvements in the SQ1 is the automatic exposure feature. This technology, which adjusts the shutter speed and flash based on lighting conditions, ensures that your photos are well-lit and correctly exposed, regardless of the shooting environment. This feature makes the SQ1 much easier to use than its predecessor.
Selfie Mode: The SQ1 introduced an easy-to-use selfie mode, perfect for self-portraits and close-up shots. This feature, activated by twisting the lens, is a welcome addition for those who love capturing selfies with their instant camera.
Design Refinements: The SQ1 sports a more modern and minimalist design than the SQ6, with a more fashionable and sophisticated look. The SQ1 also comes in three elegant colors – Terracotta Orange, Glacier Blue, and Chalk White – offering more choices for users who appreciate style.
Instax SQ1 vs Mini 11 Head-to-Head Comparison
As an experienced instant camera enthusiast, I've spent significant time exploring the design and user experience of various instant cameras. I've found that the Instax Mini 11 and SQ1's aesthetics and functionality can impact your overall photography experience.
The Mini 11 showcases a playful, rounded design and offers a range of vibrant colors. Its friendly, approachable appearance makes it popular among casual photographers and younger users.
In contrast, the SQ1 features a minimalist, geometric design with a limited color palette, appealing to those who appreciate a more understated and sophisticated look.
Regarding portability, a crucial aspect for instant camera users, the Mini 11 excels with its compact size and lightweight build. The SQ1, though slightly larger due to its square-format film, still maintains reasonable portability and comfort during photo sessions.
My hands-on experience with both cameras revealed some key differences regarding usability.
The Mini 11 has a built-in selfie mirror and a close-up lens attachment, enhancing shot composition and user enjoyment.
The SQ1, on the other hand, simplifies the process with its user-friendly selfie mode and automatic exposure, allowing photographers to focus more on capturing the moment.
Price and Value for Money
Price and value for money can be significant deciding factors for many photography enthusiasts. To help you decide, let's dive into the pricing of the Instax Mini 11 and SQ1.
The Instax Mini 11 is typically priced lower than the SQ1, making it an attractive option for budget-conscious shoppers or those new to instant photography. The Mini 11's user-friendly features and vibrant design offer a solid bang for your buck.
On the other hand, the Instax SQ1 comes with a higher price tag due to its superior design and the square-format film it uses. While it may be a slightly more significant investment, it delivers a more sophisticated aesthetic and the unique charm of square photos, which some users may find worth the extra cost.
Which Camera Is Best for Specific Uses?
As an experienced instant camera blogger, I understand that different users have unique needs and preferences. Let's explore which camera is better suited for various situations or users:
| Feature | Instax Mini 11 | Instax SQ1 |
| --- | --- | --- |
| Format | Mini (credit card-sized) | Square |
| Design | Compact and sleek | Robust and square |
| Lens | 60mm f/12.7 | 65.75mm f/12.6 |
| Flash | Automatic (with high-key mode) | Automatic |
| Selfie Mode | Built-in mirror and close-up | Rotating lens for selfie mode |
| Exposure Control | Automatic | Automatic |
| Shutter Speed | 1/2 to 1/250 sec | 1.6 to 1/400 sec |
| Battery | 2x AA batteries | 2x CR2 batteries |
| Film Development Time | Approximately 90 seconds | Approximately 90 seconds |
| Dimensions | 107.6mm x 121.2mm x 67.3mm | 130.7mm x 118.6mm x 57.5mm |
| Price | Usually lower-priced | Slightly higher-priced |
Instax Mini 11:
Beginners: With its user-friendly features and affordable price, the Mini 11 is perfect for those new to instant photography or on a budget.
Casual photographers: The Mini 11's simplicity and fun design make it a great choice for casual photographers who want to capture memories without fuss.
Parties and social events: The compact size and vibrant colors make the Mini 11 a popular choice for parties and social gatherings, where it can be a conversation starter and fun activity for guests.
Instax SQ1: